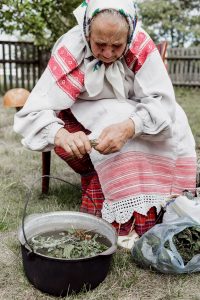 31 October 2019
This is a photograph of Zonya Ignatievna RUDKO from the village of Rechen,
Lyuban District. The photo was taken in 2016, shortly before her death. The photo
became a "Lekavya Travy" (Medicinal Herbs) music CD cover by the RELIKT group.
The lady knew herbs, advised people on how to use them in healing and used
them herself. She was a herbalist without any witchcraft or spellful background ‒
she simply knew what this or that herb was helpful for.
Подробнее